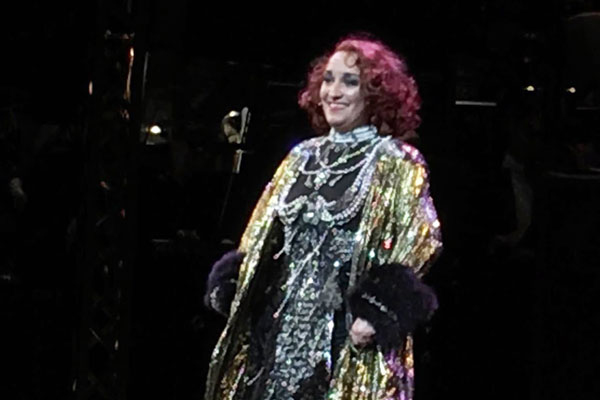 "Star casting" on Broadway and the West End brings huge names to live performances, and though it's rare for those A-list actors and actresses to miss a performance, it does happen on a rare occasion. But that doesn't mean audiences who pay top dollar to see a big star on stage have to like it. That was the case last week when star Glenn Close became too ill to perform as Norma Desmond in Sunset Boulevard at the London Coliseum on April 21. Notices were posted in the theatre that Close's understudy, 49 year-old  Welsh actress Ria Jones, would be performing as Desmond. In addition, an announcement in the theatre was followed by booing. Naturally, many patrons — some of whom paid £150 per ticket — went to the box office for refunds — but those that stayed were reportedly treated to a brilliant performance by an understudy who finally had her chance to shine.
According to The Telegraph, Jones won over the remaining audience with an incredible performance and received a six-minute standing ovation at the conclusion of the performance. Interestingly enough, Jones portrayed Desmond in 1991 in a very early workshop of the musical that Andrew Lloyd Webber presented at his Sydmonton Festival, though the musical was significantly revised afterward.
Theatre PR professional Kevin Wilson, who was a member of the audience and is unaffiliated with the show, said, "There were a lot of angry people before the show. When the guy came on stage to tell the audience Glenn Close would not be appearing, someone behind me shouted 'give me my money back.' Ria must have been absolutely terrified backstage, but she was sensational. A class act, indeed and one I am so privileged to say I witnessed."
What an ovation for @RiaJones67 going on for Glenn Close in #SunsetBoulevard @E_N_O mesmerising performance & show!x pic.twitter.com/IyTRA3cmhZ

— Paul Robinson (@paulrob44) April 22, 2016
Jones admits that she wasn't surprised by the initial reaction, saying, "Of course.  I'd  have been disappointed if I'd turned up and found Glenn Close wasn't singing." She was extremely nervous about performing, adding, "I was very nervous. I didn't want to let the team down. I had never sung with the orchestra before, it was my first run-through in costume. I knew there were going to be many disappointed fans out there, but after the first song their response gave me the confidence to go on. The response was quite overwhelming. It's something I will remember for the rest of my life."
Jones also performed as Desmond in the April 22 and April 23 performances to rave reviews. Though Close has since returned to the show, the positive response suggests a career rebirth for Webber's original Norma Desmond — and an inspiring story for every theatre understudy waiting for his or her chance at stardom.