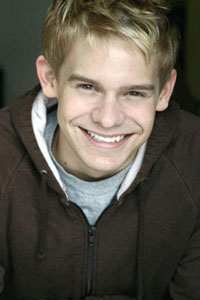 After talking to Andrew Keenan-Bolger, who play's 'Crutchie' in Disney's new Broadway musical, Newsies, I feel like a slacker.
Andrew created the role of 'Crutchie' from it's first read-through to it's run at the Paper Mill Playhouse and now in it's limited engagement at the Nederlander Theatre. And if starring in a Broadway show wasn't enough, he's also the co-creator, producer, director and star of the incredibly hot web-series, Submissions Only. The show follows a group of friends in New York City as they go on auditions and callbacks and is always fun to watch with generally laugh out loud moments.
All of his time is spent on both shows and various other projects that he's juggling, and he even told me that when he's not on stage in the second act of Newsies, you can find him on his computer editing video. "I perform better, I think, when there's a lot going on," he said.
Andrew's been in the Broadway productions of Mary Poppins, Beauty and The Beast, and Seussical, TV shows and film. He's funny and quick and just talking to him gave me a huge jolt of energy.
I talked to him about auditioning, Submissions Only, Newsies and how to dance with a crutch.
Follow Andrew on Twitter, Facebook and YouTube and check out his blog!
Newsies, I really can't wait to see it. I loved the movie when I was I kid. Did you see it before you auditioned for the show?
Andrew Keenan-Bolger: I did actually, yeah. I saw the movie in theaters when it came out which was sort of a rarity.  It was not a financial success by any long shot for Disney.  It's sort of gained a cult following with the DVD and the VHS release, so I definitely grew up with it. And I had been wanting, like so many of my friends, for there to be a stage adaptation of it.  When I found out that I was doing the reading, I was so excited number one, that it was even happening and that number two I got to be in it.
Tell me about your character, Crutchie
Andrew Keenan-Bolger: Yes, well, I play Crutchie.  He is the one with the crutch.
That's weird.
Andrew Keenan-Bolger: Yes, crazy how that works. He is handicapped, he walks with a limp. I really love getting to play him. I think a lot of people sort of assume that the handicapped character is going to be like this sort of weak, almost like Tiny Tim archetype? And they have really in the adaptation, Harvey Fierstein has really kind of played against that. He is really a tough guy and I get a lot of dry one liners.  He is really a funny guy.  He is brave and definitely against what, I think, the handicap idea has sort of been explored in musical theatre.
This is your fourth show for Disney.  Do you even have to audition for them now or do they just call you and say, "Hey, you busy?"
Andrew Keenan-Bolger: [laughs]I've been lucky in that for both at least Aladdin and Newsies, when they were assembling the reading, to just hear the dialogue read for the first time, they did ask me to come in and read the lines for them. So I definitely had a little bit of leg up because I had been familiar with the story and I knew the whole show but I auditioned just alongside everyone else. And yeah, it's great. I can't think of a better company to work for and I'm just so thrilled that the projects they've been choosing are stuff that I can potentially do.
For the show, was it a string of auditions?  From the time they started to the time they said, "Yeah, you got it."  Was it like a couple of weeks, months?
Andrew Keenan-Bolger: It was about a month. I came in originally, Chris Gattelli and Jeff Calhoun, who were the director and choreographer, they didn't see the reading so they had not seen me do the role of Crutchie, so they brought me in to audition for them.
I went in just with the pre-screens along with like the masses of people auditioning and then I went to the dance call which was kind of terrifying because I'm not so much, I'm a good mover but definitely not a dancer and this is some of the hardest, most athletic choreography I have ever seen in my life. So, they gleamed from the dance call that I was good enough to do the dancing on one leg, so I got to move to the next round which was just the final call back.  So, I went in three different times for it before I found out I was getting cast.
I actually found out my first day of rehearsal at Aladdin.  I sat down for the table read and my phone rang right before we started it and it was my agent telling me that I got Newsies.  And I looked up at and Tom Schumacher who is the president of Disney theatricals who was smiling at me and giving me the thumbs up.
Nice.  That's a good phone call to get.
Andrew Keenan-Bolger: Yes, indeed.
So, dancing and the crutch… how does that work?
Andrew Keenan-Bolger: Well, I'm trying to really honor the disability for sure.  Any dance moves or any blocking that we have, my right leg is not weight bearing so I had to figure out, along with Chris, if there's anything, any of the steps that, like if there's a turn on the right leg that I either have to modify it to be on the left or to figure out something where I can negotiate it with a crutch.
So, that's definitely been a challenge. It has been a great exercise though just to figure out that stuff and also, I just looked historically like what would the reason be that Crutchie was disabled. And I found in history that the polio virus had sort of begun its widespread epidemic across America right at the same time.
So, I researched polio a lot and I tried to watch a lot of videos of kids walking with polio and there is like a very specific musculature, they lose a ton of the muscles in their legs and lose all control of any kind of movement, so I'm trying to do my best polio walk as well in the show.
Is there anything different from the show or with your character from when you guys were at the Paper Mill Playhouse to now?
Andrew Keenan-Bolger: It is, yeah.  It has changed a little bit.  All of the big numbers that people are really expecting are all still there. There's a couple new songs.  There's a couple rewrites in the scenes.  They've added some more phrases of choreography.  Really, it has just been taking what worked so well at Paper Mill and building upon it and amping up the scene work, beefing up the songs and the choreography.  A lot is retained and then a lot of new stuff also added.  I think it's in its best version that it has ever been and I'm so thrilled that this is the version that most of the general public is going to see.
With Broadway auditions, how far ahead of time do you get the sides and what is your preparation like?
Andrew Keenan-Bolger: It honestly depends on the project.  Sometimes I will get call at 6 o'clock at night and say I have to go in at 10 in the morning for something and it's really, you've got to cram and teach yourself the scene really quickly and try to get into the skin of the character super-fast. And then other times, like with Newsies, I had a lot of time to prepare which was great and I really got to try out some different stuff in front of the mirror basically.
There's never a clear formula for auditioning for theatre.  It's kind of like any audition where your level of preparedness, you try to be as prepared as possible but it's definitely flying by seat of your pants sometimes.
Do you memorize the songs or do you have the music in front of you?
Andrew Keenan-Bolger: I try as best as possible to memorize everything that I do every time I go in for an audition, even if it's the smallest little couple lines or big pages. I feel like I'm never going to fully be able to get into the character and try to be that character living that life if I'm having to constantly check down at my script to see whether or not I'm lost. So as best as possible, I try to memorize everything.
I also want to talk about Submissions Only.  I love the show and it's becoming hugely popular. How did the show come about?
Andrew Keenan-Bolger: Well, I was doing with Kate Wetherhead, who is my co-creator.  We were doing a show in Dallas and I got comissioned to make a backstage video and I was kind of coming up with like little ideas and she kept feeding me some fun  little like vignettes that we could stage.  I was like, "you're really smart.  You're a funny lady." And her husband actually, who was lighting the show was like, "I don't know anything about what's going to happen with Superman," which was the show we were doing, "when we go back to New York but I know one thing is for sure, you and Andrew need to stick together and collaborate on something."
So, our last week of performances in Dallas, we drafted up a pilot, we had a table read the week that we got back and we started filming two weeks later. So it was really quick process and neither of us really knew what we doing.  The learning curve has been so great on this because it's trial by fire for the most part.
But yeah, it sort of spread to the community. A lot of other actors who were supporting us, helping us out, and suggesting their friends who were people maybe we didn't have access to, to be on the show.  It has been incredible how supported it's been by the community and now that it's in season 2 and it has reached a broader audience, I think what I'm most excited about is that people who are not in our profession who are still relating to it and getting behind the stories and the characters, and I think that's really cool.
How do you balance Newsies and your other stage work with this?
Andrew Keenan-Bolger: [laughs]That is a good question.  I sometimes don't. In fact,  I kind of stopped checking Facebook and watching TV.  I do a lot of editing.  Luckily, in Newsies I've got some downtime in the second act so I use literally every free second that I have on my computer editing whatever our final drafts are.
Are you even working backstage?
Andrew Keenan-Bolger: Yeah, yeah.  I'm always working backstage.  It's definitely a labor of love but it's one that I wouldn't want any other way.
Are you just always on the go?  Do you have any free time?
Andrew Keenan-Bolger: I'll be honest,  I don't have a lot of free time.  I perform better, I think, when there's a lot going on. I think it's when I've got a bunch of downtime that I won't even get done the small tasks in my life. So as long as I've got like a million things happening, it usually all gets done.
How did you get your start?  Did you always want to be an actor?
Andrew Keenan-Bolger: I did, yeah.  I was actually a child actor.  I made my Broadway debut at age 10 and definitely, when I started out, it was a hobby. And even though I was working professionally, it was still just something that I wanted to do.  Also, my sister is an actress and she is a little bit older than me. I mean, she sort of made the decision that she wanted to be an actor professionally and she grew up and went to college. I sort of followed in her footsteps. I've always looked up to her so much.  So I always say, if she went to go work for NASA, I would probably not be doing much singing and acting right now.  I'd probably be an astronaut.
What's the worst audition you've ever had?
Andrew Keenan-Bolger: Oh gosh. My audition horror story is I was auditioning for, actually Jeff Calhoun who is the director of Newsies.  I'm thankful to get to work with him again after this one audition.  It was a dance call and I didn't realize it was a dance call. So, my flight came in late. I'd already missed the first half of the audition and I got there expecting to sing and it was like a giant basketball number so everyone had been practicing all these basketball tricks for the first hour and a half.  I got there and they were already starting to pair off, so I went through the audition…  I did the combination a couple of times and then I had to perform all these basketball tricks which I'm not the best at playing normally. So I decided to just improv and I put the basketball under my shirt and I was just pretending to be a pregnant woman. Doing like, "Ahhh. I want a pickle." Going through a lamaze breathing session. I was like, "I can't just stand there doing nothing." But I truly did not know the combination so our group finished and Jeff was like, "I'm going to need to see that group again because the only person I watched was the pregnant lady."
Which show was this?
Andrew Keenan-Bolger: This was for High School Musical when it first came out. So thankfully, Jeff has forgiven me for that and decided to put me in the musical. Luckily, I don't have to do too much dancing in this one.
Do you even consider yourself a dancer or do you move well enough to fake it?
Andrew Keenan-Bolger: Absolutely, I'm a mover.  I like dancing but I think that in a world as competitive as Broadway, there's people, at least in my cast, who can do 15 pirouettes like no problem and insane tumbling so I'm happy to do a phrases  of choreography but I will definitely, after that, I was like, I'm not going to dance calls anymore.  It's too embarrassing.
What's your advice to actors?
Andrew Keenan-Bolger: I would say the best piece of advice I ever got was to be really comfortable just being yourself in auditions.  I know at least when I was in school and when I was younger, I would really try to emulate all of my favorite performers and the people who I really looked up to.  I think that works to a degree but I think there's nothing that is more interesting than seeing an original performance. Because at the end of the day, we've already got a Kristin Chenoweth or a Megan Hilty or a Nathan Lane but what the world doesn't have is you. So I always think, feeling comfortable to be yourself in an audition room and just really put yourself on the line is always more rewarding because that way you succeeded yourself.
For tickets and information on Newsies, click here