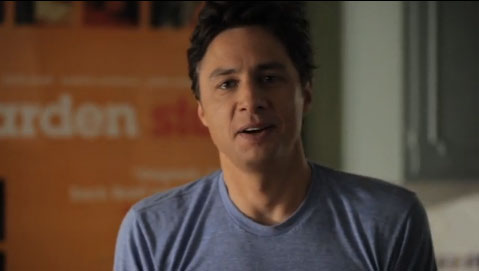 The team behind Veronica Mars won't be the only filmmakers using Kickstarter to fund their movies.  Zach Braff announced that he's hoping to raise $2 million to make his film Wish I Was Here.  Braff's decision came out of his frustration with having to hand over artistic decisions to studios or financiers. 
"I tried to make a couple of films within the studio system and also with traditional independent financing," Braff said in an interview with The Hollywood Reporter.  "I always hit roadblocks, whether it was having to cast a certain person or having to retain final cut with the success of Garden State.  With this movie, I'm so passionate about this movie I was really about to sign on the dotted line with a traditional financing arrangement, and it's been ten years, God I want to make a movie more than anything.  I'll do whatever you want, I'll give away final cut, I'll put your brother in it, whatever."
But now the actor/writer/director has decided he wants more control over the final product of the film (about a struggling actor who ends up homeschooling his son.)  "And now this many years later, I'm saying again to myself, God, the current model I'm being asked to sign just doesn't sit right in my stomach," Braff said.  "I don't want to cast those people, I don't want to do those many things on that list required to get me that money, including giving up final cut, because I've been in test screenings and I've seen the way one person's commentary can steer the whole way that a financier wants a movie to go.  I'm not going to do that with this film, because it's too important to me, it's too close to my heart.  Now financiers are fine for lots of projects and it works out perfectly for many movies, but when you're trying to make these smaller personal art films, the idea of giving final cut away to someone else, it doesn't make any sense for me."
Here's hoping people donate funds like they did with Veronica Mars (which surpassed its $2 million goal by $3.7 million.)
 Check out the Kickstarter page here.