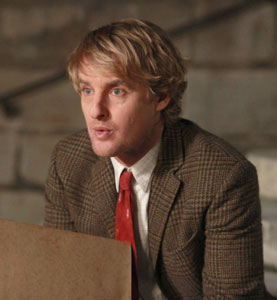 Known as an actor's director — which is why dozens of actors have gladly sacrificed large paychecks to work with him — Woody Allen is enjoying some of the best reviews and box office success of his career with Midnight in Paris. 
Benefiting from that is Owen Wilson, the star of the film, who was recently nominated for a Golden Globe for his role in the movie.  But as Wilson tells NBC New York, he wasn't sold on the film's plot even if he wanted to work with Allen.
Naturally, Wilson says that part of what attracted him to the project was Allen himself, even if he had reservations about the film's plot. 
He explains, "It was working with Woody Allen. That was kind of an exciting idea, and some of the people that were going to be in the movie. Also, making a movie in Paris. I would say that those were all sort of attractive ideas to me, more than did I read the script and go, 'Okay, this is great.' I really enjoyed reading it, but like I was saying, I just didn't have a sense of how this time travel element was going to work. So that was always sort of the wildcard for me. Then that ends up being one of the things that people liked the most about the movie. So Woody pulled that off."  Of course, Wilson himself is a writer — his lone Oscar nomination came not for acting but for co-writing The Royal Tenebaums with friend Wes Anderson — and though he hasn't written a film since The Royal Tenebaums, Wilson believes that all his subsequent acting experience has made him a better writer.  He points out, "I think just more experience, probably. I think the fact that I read a lot as a kid and was an English major and had to read a lot in college, I think that helped me as an actor and certainly as a writer just with having a sense of dialogue and story. Then I was just very lucky that my parents are both creative. It's just the way that I grew up. I was around really funny, creative people who were a great example. "
But since Wilson has been nominated for a Golden Globe — and hasn't written a produced screenplay in ten years — he sees himself more as a career actor.  Upon hearing the nomination announcement, Wilson says, "I was very excited to hear that news. I was thrilled when we got nominated for The Royal Tenenbaums, but maybe because I didn't necessarily think of myself as an actor, especially in the beginning, that is a sort of nice surprise because I continue to do it and make out a career out of it. Then to get recognized with that is exciting and unexpected."
Midnight in Paris is now available on Blu-Ray and DVD