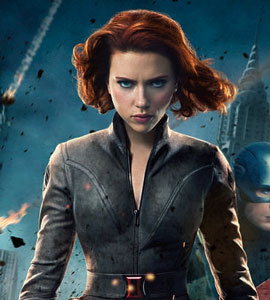 Playing a superhero in a movie ought to be fun, right?  After all, you get to leap tall buildings in a single bound, wear a flattering costume, and spout lines of dialogue that would just sound ridiculous coming out of your mouth on any other day of the week.
But as Scarlett Johansson tells USA Today, for an actress in one of those seemingly impossibly-tight outfits it's not really all that fun.
Johansson, who stars as the Black Widow in The Avengers, initially had an issue with the durability of the costume since it kept ripping.  She explains, "The first times around were hysterical with this costume.  You'd go to do a high kick and the pants would just split open. I was like, 'OK, we're going to need to reinforce this.'"
Though that problem didn't last — she says, "They had it pretty figured out in the first week, though.  For me it was really important to be able to move around in it" — Johansson isn't going to call the whole experience particularly enjoyable.  She adds, "Getting into a latex cat suit isn't what I would chose in my everyday attire.  It was a bit of a challenge."
Getting it out of it seems rather uncomfortable, too.  She reveals, "The material is like a torture chamber.  I literally had to peel it off. We all had skin conditions going with our outfits after 15 hours of non-stop sweat. I was sending pictures to my dermatologist in Los Angeles."
Considering the incredibly strong buzz The Avengers is getting from its early overseas release, the skin irritation was worth it.  Of course, it's worth mentioning that no matter how uncomfortable Johansson felt on the inside I haven't heard anyone complaining about how she looks on the outside!