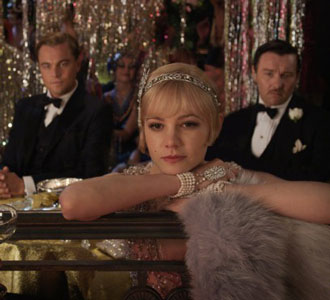 One of the greatest achievements in Carey Mulligan's career (perhaps even more than being nominated for an Oscar for An Education) was when she landed the part of Daisy Buchanan in Baz Luhrmann's adaptation of The Great Gatsby.
Mulligan recalls the waiting period after auditioning in an interview with Vogue, saying, "I was trying to be cool, but oh, it was horrible.  It was terrifying, the suspense.  I was winding down on shooting Drive, so I wasn't working that much, just waiting around for the phone to ring and for me to be disappointed."
But after ruling out big names like Keira Knightley, Blake Lively, and Natalie Portman, among many others, Mulligan won the part.  She heard the good news while attending the CFDA/Vogue Fashion Fund Awards.  "[I was] sobbing," she remembered.  "Everybody was like, what is wrong with her?"
Mulligan described the actual shooting of the film as "crazy and exhausting and quite overwhelming.  [It was] the biggest, craziest production I've ever been involved in."  Despite the hundreds of extras and elaborate sets, the actress also found the experience of portraying the character of Daisy to be difficult. 
"I wanted to feel really, really, really good.  [But] the script is talking about how she's the king's daughter, she's this beautiful angel—and you're like, Phew," she said.  "You just wanna get through the scene.  I'm fully prepared to be completely ripped apart.  Well, I'm not prepared; that's the thing.  I don't want to be torn apart.  We've all just tried something; we had fun, and we tried to do something interesting and exciting, something that people could connect with."
After the hectic filming of The Great Gatsby, Mulligan went into production on the Coen brothers' new movie, Inside Llewyn Davis.  Since then, she's taken almost a year off of acting.  "I feel like I should have gone off and built a well or something," she admitted.  "But acting is no longer the focus of my life.  It's what I love doing but it's not everything."
The Great Gatsby hits theaters May 10.