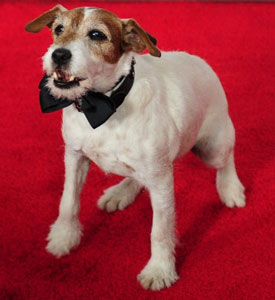 After becoming one of the most talked about — and let's be honest, most liked — actors in Hollywood after his scene-stealing performance in The Artist, it was quite a surprise to find out last month that Uggie the Jack Russell terrier would be retiring from movies. 
Uggie's trainers pointed to Uggie's advanced age (he turned 10 last year) as the primary reason why the beloved pooch would not grace the big screen again.
However, it turns out that there's unfortunately more to the story: Uggie is also retiring because of a mystery neurological illness.  Omar Von Muller, one of Uggie's trainers, explains to the UK's Daily Mail, "It's very sad but he is suffering from a mystery shaking syndrome. It is a neurological disorder and we've spent thousands on vets' bills trying  to figure out what is causing it  but the experts don't really know.  He started shaking shortly before The Artist began filming in November 2010. It comes and goes and, ironically, it is worse when he's relaxed. When we were filming you could hardly notice it." 
Though it isn't uncommon for Jack Russell terriers to shake, Uggie's movements are alarming.  Von Muller adds, "This is beyond what is normal for the breed but all the vets can tell us, after all the scans and tests, is that it is neurological and he is not suffering."
Still, Uggie will have at least one more chance to dazzle audiences: he is expected to open the Oscars telecast alongside host Billy Crystal later this month.  Von Muller is at least grateful for that chance for a final curtain call for Uggie, saying, "It is a shame this has happened when he is getting the biggest success of his career but we feel the best thing to do is to retire him after the Oscars."
Let's hope that Uggie has many happy, and most of all healthy, years of dog-retirement to enjoy!