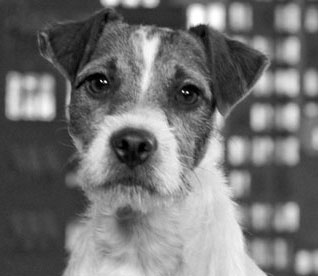 C'mon, I couldn't do this story without using a terrible pun as a title, right?
Possibly the most popular animal actor in Hollywood right now, Uggie, the Jack Russell terrier that is part of the reason why audiences have fallen in love with the Oscar-nominated silent film The Artist, is retiring. 
Uggie's trainers, Omar Von Muller and Sarah Clifford, tell USA Today that the star (who made a memorable appearance at the Golden Gloves) has had his day and is now retired from the movie business at the ripe old age of 10 (but that's like 70 in dog years, of course).
"Uggie's still enjoying it, but he's getting up there and he's slowing down a little," says Clifford, who also adds that Uggie is still available for short films and TV commercials, but a feature-length film is out of the question.  "He's at the stage where he just says, 'I think I want to go and lay in the sun by the pool.'" 
Like the Barrymores and the Baldwins, we might experience a dynasty of Uggie's family: Clifford and Von Muller are currently training Uggie's younger brother, Dash, for future Hollywood roles.  Uggie himself also appeared in other films, like Water for Elephants, before his big break in The Artist.
Of course, Uggie's trainers are hoping their prize pooch will make one last appearance on the grand stage: The Oscars.  Despite appearing on the red carpet of the Golden Globes, it isn't confirmed yet if Uggie is invited to the Academy Awards.  Von Muller hopes he is, saying, "I hope he gets to go.  They should give him an envelope to bring to Billy Crystal."