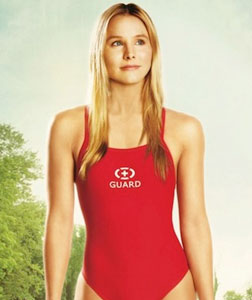 Kristen Bell made a name for herself playing teenage PI, Veronica Mars.  But the actress is in no rush to limit her choices to either drama or comedy.  She's currently playing a lost 29-year-old who romances a teenager in the indie, The Lifeguard.
"I don't know [whether I consider myself more of a comedic actress or a dramatic actress]because I started out doing much more drama," she said in an interview with Huffington Post.  "I came from doing theater in New York, where I did The Crucible, which is not exactly a romantic comedy.  And then I did the first season of Deadwood and was on The Shield, which is dark, and I have done a fair amount of drama, but I feel like what I'm known for and what I have more fun doing is comedy."
Bell explained that she enjoys more action-driven roles (like her part in Heroes), but also likes playing more human drama (like The Lifeguard.)  "I enjoy them both, but this one is more challenging," she admitted.  "It's very uncomfortable to sit still; it's much easier when you have a motive or you have props or a superpower or a lot of storyline to move really quickly.  It's much more uncomfortable when you just have to sit still and be vulnerable in front of the camera and do absolutely nothing.  It's way more uncomfortable."
At this point in her career, Bell is not worried about being typecast—in fact, she actually likes the sort of roles she is normally cast in.
"My conventional role is really sassy and snarky and cool, and no, I don't get tired of that," she said.  "So I don't get tired of playing the quick-witted girl, but I'm lucky to be able to have been cast in some roles that are like that.  If I was playing the quote-unquote girlfriend, you bet your ass I'd be sick of it.  So I've gotten to play roles like Veronica Mars where I'm like, 'I get this punchline, though, I like it.' 
"Do I want to experiment sometimes and play in a different movie like The Lifeguard, where I'm not sassy and I'm not funny and I'm not smiling all the time?  Absolutely.  But the pigeonhole that I've been thrown into is the best I could possibly imagine."
The Lifeguard is currently playing in limited release.