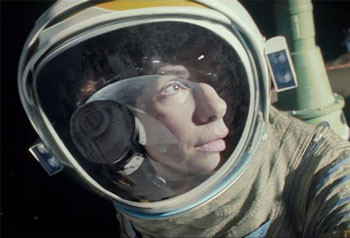 Sandra Bullock might get the most praise from critics for her dramatic roles in films like The Blind Side, Crash, and the Venice International Film Festival hit Gravity, but it's important to remember that among her top grossing films are comedies like The Heat, The Proposal, and Miss Congeniality.  It's no wonder that she insisted on Reuters Television that she has no plans to stop doing comedic roles, especially in light of the challenging shoot of Gravity, which was directed by Children of Men director Alfonso Cuarón.
She explains, "I will do comedy until the day I die: inappropriate comedy, funny comedy, gender-bending, twisting comedy, whatever comedy is out there.  Even a bad TV show — if that's where I have got to go at the end I will go there if it's comedy."
Even when working on Gravity she found it difficult to stifle her preference for lighter moments.  To prepare for the space role she actually spoke with the astronauts on the International Space Station.  After leaving them a message she received a call back, and she confesses, "I was asking silly questions, 'Where do you go to the bathroom?' and in the end I got a viewpoint of these people who we've idolized, these astronauts.  And the viewpoint is that they care about life, our life and what we're doing with it so much – that's why they're up there. But I was really honored that they would call me back, and you know they are normal people who do extraordinary things."
That inspiration must have helped for what was reportedly a difficult film to shoot considering the sheer amount of special effects work.  "It wasn't a walk in the park for anyone involved, especially Alfonso.  I mean the immense pressure that he was under, technicians were under, no one knew if this would work until the day I got into the first contraption.  Even then they didn't know if it would work technically or if the actor in the contraption could pull it off, it was a great unknown every single day because we were all in the same boat.  Everyone was in it together. There was no one-upmanship on this film."
via Yahoo!