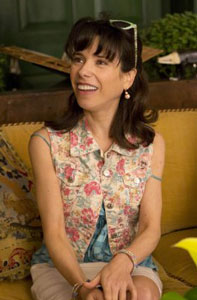 Any moviegoer can tell you that a bad accent can ruin a film.  So Brit Sally Hawkins was determined to get her American accent perfect in Woody Allen's new movie, Blue Jasmine.
"I had a very clever accent coach, Carla Meyer, who has worked with Cate [Blanchett] before," she said in an interview with The Wall Street Journal.  "I wanted to work as hard as I could, because there's nothing worse than watching a film and worrying about an actor's accent.  I [watched]greats like Julianne Moore, because she's a wonderful actress and also her accent is a good neutral from which to springboard.  Also Laura Linney, who I adore.  They have their own particular tone, but I didn't want to pick up something specific to them.
"I tried to watch a lot of American TV, lots of HBO, to get a neutral accent first.  I do that anyway, because the best TV is American.  Don't tell the Brits that.  But there's no such thing as a general American accent.  Every character has a different accent and tone."
Hawkins was first introduced to Allen when she auditioned for the role of Ginger.  "It's always very fast when meeting Woody," she explained.  "He doesn't like to chitchat much which I like.  I really admire that in him actually and appreciate it.  He gives you a scene and you meet him in his editing suite, which is a magical place for me.  It's like stepping back in time and will always be this place that doesn't really exist.  You go through a door and another door and there's Woody.  It's like some kind of rabbit hole.  I'm sure if I tried to find it again I would never be able to."
The actress, who won a Golden Globe for 2008's Happy-Go-Lucky, had an interesting time shooting the film, since Allen is notoriously secretive about his scripts.
"You eventually get it, but you are not allowed to bring it to the set, or show it to anyone, of course," she said.  "Not every actor even gets a script. That's similar to the way Mike Leigh works, you don't have a script and nobody's supposed to know the story.  You don't know what's going on.  I think that's good in terms of acting because you don't anticipate the scene before you get there."
Hawkins costars alongside Blanchett in the film, and the two of them did their own preparations to play adopted sisters.  "Cate and I set up a back story to help with our own relationship and understanding of where they are and how they are with each other," she said.  "Woody would probably not agree at all if he heard me saying this, but it helped cement things for us."
Blue Jasmine opens Friday, July 26.