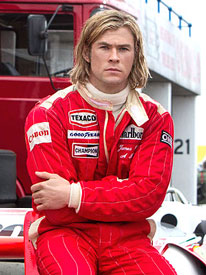 While many actors long for a franchise like Marvel's Thor, Chris Hemsworth knew that there was more to his career during the promotional tour of The Avengers. After doing some soul-searching, he came across the script for Rush. That's when everything changed for the Australian actor.
"I remember doing the press tour for The Avengers. And — without complaining about it — the questions in interviews were all, 'What's your workout program?' and 'How did you put that much muscle on?' And you realize you're not really looked at so much as an actor, there's the assumption that what you did was pretty easy," said Hemsworth. "So I had a strange kind of need to go no, no, there's something else I have to offer, and I started looking for something deeper."
The story of James Hunt and his Formula 1 rivalry with fellow racer Niki Lauda appealed to the 30-year-old actor who was looking for something to sink his teeth into. Playing the cocky playboy was something he knew he could do.
He said, "I empathized with the sort of childlike nature he had, existing in the moment."
It's also something that the Snow White and the Huntsman star understood. Hunt's exploits off the track made many fans underestimate his capabilities on the track. For Hemsworth, he felt the need to prove his skills because he knew that there's more to his career than just a pretty face and a hot body.
The Aussie actor made the big leap by leaving his home country and headed to the U.S. to take his career to another level.
"It's such a long way, and it costs a lot of money. But I really had to start all over again. And, I mean, for five years, I had my hand up for every bad movie that came along."
He had some success along the way though with a small role in the Star Trek reboot and in the horror flick A Cabin in the Woods. Once Thor came along, the trajectory was set for his Hollywood career. Hemsworth is now in that fortunate position of being able to pick his next project.
"That's the great thing. That I have the luxury now to be picky, to say, 'Yeah, I feel like doing that' instead of 'Yeah, I've got rent to pay.' I've been really lucky," he said. "There was never any orchestration on my part, I just wanted to work. I was famous in Australia and I stepped away from that, and basically had to start all over in the States. But when the fame came here, with Thor, it had a weird kind of normality to it. Maybe I was ready for it, the second time around."
With such diversity in his career like the Marvel franchise and the independently-financed film Rush, Hemsworth is on his way to navigating Hollywood his way.
"I feel like I learned more from this film, and was forced to, because it was such a focused, intimate look at a human being," said the Marvel star. "I learned things from Thor, too — what I learned from Thor, and what I learned from doing Rush are two vastly different things that feed into and benefit each other. More than anything, I think what I got from Rush, and from playing James, was to be true to yourself. Disregard the outside opinions and just go for it. Because it's a roll of the dice — and you never know where it's going to land."
Rush is in limited release in New York and Los Angeles. The film opens nationwide on Sept. 27.
Via The Star-Ledger