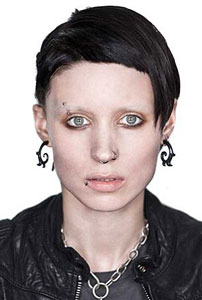 Recently speaking with Yahoo, The Girl With the Dragon Tattoo's Rooney Mara shared that she feels empty since finishing on the set of the David Fincher directed thriller.  
"I spent over a year at 100 miles-per-hour, just working on pure adrenaline for a lot of it.  And it's hard to come down off of that. For someone like me, who really thrives off of having something to focus on, it's hard to lose that," she said.
Prior to landing the lead role in the Stieg Larsson adaption, that also stars Daniel Craig as Mikael Blomkvist, the journalist Mara's alter ego assists, Rooney appeared in Fincher's The Social Network.  Her role as Erica Albright, changed her outlook when it came to choosing parts.  "It just felt different than anything else I had done.  After that, I got really picky. I didn't work for a year. I didn't work until I got this part because I was just trying to find something that I was really passionate about."  Where is Rooney Mara headed next after playing Lisbeth Salander?  By the sounds of it Mara will be working with director Terrence Malick.  Although her casting isn't concrete, the young actress is rumored to be joining Malick's top secret project Lawless that will shoot in September.