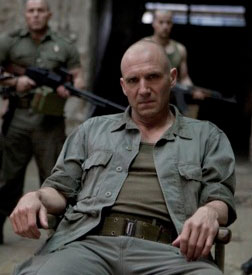 Ralph Fiennes might be known to millions of moviegoers as Lord Voldemort, but the Oscar-nominated actor began his career as a member of the Royal Shakespeare Company. 
He returned to his Shakespeare roots by both starring and directing — his directorial debut — in Coriolanus.  Speaking to NPR, Fiennes talks about his affinity for Shakespeare and the challenge of directing himself.
Fiennes also co-wrote the script, but he left the language of Shakespeare largely intact.  Fiennes admits that he did so because of his loyalty to Shakespeare, saying, "Some producers and people did ask me would I rewrite the project.   I carry a flag for Shakespeare's verse. It was the reason I became an actor, because I was moved and excited by Shakespeare's language and Shakespeare's stories."
Because Fiennes was directing for the first time, but starring in the film too made him pay closer attention to his work.  He admits, "You are confronted with all kinds of facial takes, vocal mannerism, things that make you embarrassed, recoil.  That was painful and I still feel slightly awkward when I see myself up there, but I felt I learned a lot about acting." 
Though Fiennes' success has essentially put him in a position where he can choose any role he'd like, Fiennes confesses that he's yet to find his dream role.  He explains, "What I really would love is the unknown part, the part that's going to be written.  I guess I'd love to be surprised by something I had never thought of."
Coriolanus is now playing in limited release.