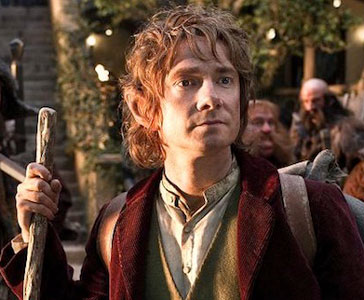 Though Martin Freeman already was a well-known actor for his roles on the original version of The Office and another BBC series, Sherlock, he's certainly more visible and well-known now that The Hobbit: An Unexpected Journey had the biggest December opening weekend in history and shattered box office records all over the world. 
Freeman, who stars as the titular hobbit Bilbo Baggins, had a few challenges with the three-film series, which precedes The Lord of the Rings trilogy.  In a conversation with The New York Times, he reveals what he found most difficult about the role and what helped him in his portrayal.
According to Freeman, the hardest thing to get used to was wearing and walking in the prosthetic hobbit feet.  He explains, "They were quite heavy.  And they were six inches longer than your real feet. So it immediately changes the way you move."
As far as what made the role easier, Freeman points at the fact that he was stepping into a world that was already developed in three films and performing a character who was already portrayed in those films (veteran actor Ian Holm played Bilbo in The Lord of the Rings trilogy, and appears as older Bilbo in the prologue of The Hobbit: An Unexpected Journey).  One thing he focuses on are Bilbo's nervous tics.  He says, "It's quite nice, actually, when you make decisions as a character that you don't have to manufacture, they're just of necessity.  He always has a nervous energy in his hands and he's always twitching something, and the feet kind of helped with that…. At the beginning anyway, he had a slightly awkward feeling about him."
In fact, Freeman even pick an animal he sees Bilbo as.  "I kind of saw him as a meerkat," he said.  Well, if you say so!