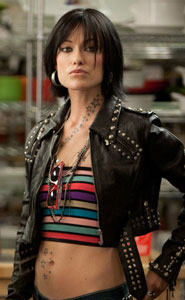 Olivia Wilde took her preparation seriously for her role as a stripper in the new film Butter.
"I was stuck in Austria under the volcanic ash cloud and I couldn't get to Louisiana in time," the actress told USA Today.  "I got there and they flew a trainer in from S Factor and she taught me at an actual strip club, called Action Central, and got me to the point where they offered me a job there.  So if all else fails, you can find me at Action Central."
The 28-year-old has been working nonstop since wrapping Butter, including the Ron Howard film Rush, the comedy The Incredible Burt Wonderstone, and the Spike Jonze-directed Her.  "I now have the luxury of being choosier and choosier," Wilde said.  "I've gotten to the point where I don't have to work all the time.  I'm able to do things that don't need to be blockbuster.  I'm able to help movies get made, which is really exciting.  I'm really picky now and it's only because there's no reason not to be.  I don't regret anything I've done because I've learned something from each experience."
 Wilde is also eager to do a project with her boyfriend, Saturday Night Live star, Jason Sudeikis.  "We talk about it all the time," she said.  "We're constantly doing bits together.  One day someone will turn a camera on that.  It would be a good movie."
Butter is out in limited release and on VOD now.