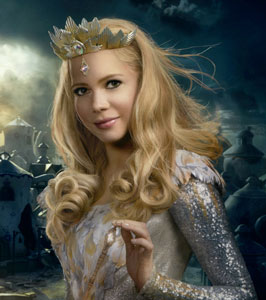 It might seem odd that Michelle Williams did research for her new movie role.  After all, she's playing a fairy tale witch in the new Wizard of Oz prequel, Oz: The Great and Powerful.  But the actress wanted to find a new approach for the character, different from Billie Burke's portrayal of Glinda the Good Witch in the 1939 film.
Williams read a biography of L. Frank Baum and the 14 books that the author wrote about his made up land.  She even kept a 'Glinda notebook.'  "You don't know if you're going to find anything when you do all that geeky research," she admitted in an interview with The Los Angeles Times.
But Williams knew that she didn't want to depict the witch as all-knowing.  "Glinda can't be omniscient because then she has no struggle," she said.  "If she already knows everything about the situation, there's nothing for her to discover."
Her research also allowed her to find new aspects of her character, mostly untapped in other versions of the witch.  Williams discovered that Baum was very interested in the women's suffragette movement and the rights of Native Americans.
"Quadlings, Tinkers and Munchkins didn't mean much to me; it wasn't my language," she said about the other characters in the movie.  "But when I thought of them as Native Americans trying to inhabit their land or about women getting the right to vote, it made a lot more sense."
Oz: The Great and Powerful, which costars James Franco, Mila Kunis, and Rachel Weisz, opens in theaters on Friday, March 8.