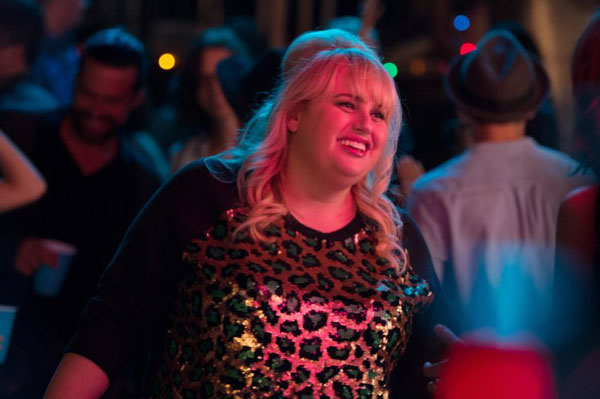 "There's something about me that people like laughing at" – Rebel Wilson
Rebel Wilson is a name that's instantly recognizable. A lot of people know her for her role in Pitch Perfect and its sequel, Pitch Perfect 2, but even if you haven't seen Wilson on the big screen, the chances are you'll still know who she is. The Australian comic actress is bright, bubbly, and not afraid to tell it like it is. As well as the role of Fat Amy in the Pitch Perfect franchise, Wilson has appeared in Night at the Museum 3, The Brothers Grimsby (opposite Sacha Baron Cohen), and Bridesmaids, to name but a few.
The actress has just made a cameo in the AbFab movie, but her main project right now is starring in London's West End revival of Guys and Dolls. Wilson also has her own plus size clothing line and, given her edgy attitude and bucket loads of confidence, is seen as an inspiration for women everywhere.However, Wilson says  she was lucky to get her break in the first place; after an unsuccessful audition for one of the lead roles in Bridesmaids, director Paul Feig and producer Judd Apatow saw something in her that they knew moviegoers would like, and so they created a small part especially for her, which she completely embodied and built into a great role.
"I really could have ended up having zero lines in that,"  Wilson admits. "It did pop, and people went: 'She's interesting. We want to see more of that girl.' And one of the movies I got from that was Pitch Perfect, which turned out to be a mega franchise."
"I think a lot of the reason I get hired is because they know I'm going to embellish the script. And I kind of think in Hollywood, if you don't have that ability, you're not going to last too long in comedies. You can be a dramatic actor, fine – it's not like you're going to be improvising: 'Oh my god, I killed my son'. But in comedies, if you're not adding, you're probably going to be a bit forgotten, in the edit."
Though size shouldn't be an issue in Hollywood, it is, but when Wilson was first starting out, she found she gained more laughs when she was bigger. She consciously traded her fit, athletic figure for a more curvaceous one, and it worked in her favor.
"There's something about me that people like laughing at," she explains. "And I was like: 'Oh. That girl's getting a lot of laughs, a lot easier than me. What is it?' Because I don't think there's much difference in talent. And I remember distinctly thinking: 'I think it's because she's fatter'. And then, I don't know if it was mega-conscious, but I thought: 'How can I get more laughs? Maybe if I was a bit fatter…' And then suddenly I was fatter, and doing comedy."
"I saw my size as being an advantage," she says, "whereas so many women see it as a disadvantage".
As well as her comedy, Wilson has a shrewd head for business, which helps in her industry, and has also given her the chance to extend into the fashion industry too. Wilson isn't afraid to place emphasis on the importance of being savvy about the entertainment industry, and the benefits of making yourself stand out.
"People just don't think," she says. "Even though this is a creative field, it is a business. When you looked at the actors around me at the Australian Theatre for Young People, I wouldn't have thought I was the most talented. But I was definitely unique, and I definitely had the entrepreneurial brains."
Via The Telegraph