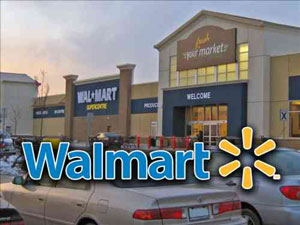 With NetFlix angering a lot of its customers with its recent announcement of price increases, its near monopoly over video streaming might be starting to crack as other companies like Hulu, Amazon, and Apple have slowly made inroads into online streaming.  The latest company to add to that list is Wal-Mart, the behemoth retail giant, which is jumping into a pay-per-view model like Amazon and iTunes according to the Associated Press.
The site, originally located at Vudu.com (which Wal-Mart bought almost two years ago) went live today as a fully integrated feature on Walmart.com.  It has comparable prices to Amazon, although Vudu.com does offer higher definition quality for a higher price for each movie, with movies ranging from the silent-era to recent releases and television episodes.  Movies are available for individual streaming or for purchase,  but there's no NetFlix-style streaming or mail subscription model.  Unlike NetFlix, Wal-Mart offers the movie for streaming on the same day as it is released on DVD, which is a major coup that will certainly cut into Netflix's subscriber base.
This is the second time Wal-Mart has entered the movie rental business: Wal-Mart briefly offered a DVD mail subscription service that it eventually turned over to NetFlix, so it's rather interesting to see Wal-Mart jump into the rental business again.  Whether or not this will have more success will be up to users, but with a lot of online rental outlets it's likely it will come down to service and price.
Check it out here