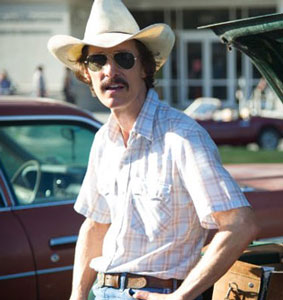 Forget diet and exercise.  The real secret to weight loss is… Tom Hanks.  Well, at least according to fellow actor Matthew McConaughey.
McConaughey had to lose a sizable amount of his normal bulk — forty pounds — in order to portray Ron Woodroof, an HIV-positive man, in Dallas Buyers Club.  So, McConaughey put in a call to Hanks as an expert.  He explains, "I actually called Tom and had a great conversation with him about what he learned about losing weight for Philadelphia and Cast Away. And I consulted a nutritionist about the best way to do this."
However, McConaughey otherwise kept the reasons for his weight loss a secret in order to determine its effectiveness.  He reveals, "I was going around and people were going, 'Hey, are you feeling all right? But then I hit 135 lbs. I ran in to somebody and they didn't just ask if I was all right, they said, 'My God, we need to get you some help.' And I thought, 'There we go. That's the perfect spot.'"
The end result for McConaughey was a change to the physical way he acted.  He admits, "Somebody told me they heard a story about how I didn't have any energy on set, but I was kind of uncontainable with energy. All the acuity, energy and power I lost from the neck down transferred to the neck up."
So can we see Hanks star in a Richard Simmons biopic?  There's definitely money in that.