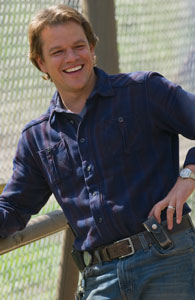 It's wild how much Boston actor Matt Damon has evolved over the years.  After breaking into mainstream movies as the rough and tough bean town genius in 1997's Good Will Hunting, Damon has since appeared in a slew of movies, with the the Bourne Franchise and The Departed being probably the most well known. 
What does the now forty-one year old think about the younger generation associating him with an older role, and his thoughts behind a star's short shelf life.
While talking with Parade Magazine, Damon, whose new movie We Bought a Zoo opens on Dec. 23rd, shared a recent run in with a fan who recognized him as a star from The Departed. 
"I was down by NYU [New York University] getting a cup of coffee at Starbucks, and there were a bunch of college-age students working there," he said. "The girl at the counter said, 'Oh, wow, I just loved you in The Departed.' I said, 'Thanks a lot.' And she goes, 'I know, I know, it was a long time ago.' And I thought, well, there you go. Because to her, if she's 19, it probably came out when she was 13 or 14, so it feels like a generation ago. Every five years there's a new crop [of moviegoers], and they have no idea who you are. If your identity is somehow tied to that, you're in deep trouble. Because if it's not happening now, it's going to happen at some point."  As most would agree, it will be a long time before Damon's star burns out.  Watch a trailer below for his forthcoming role.