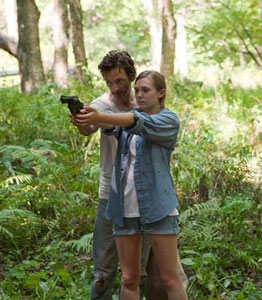 In Martha Marcy May Marlene, Academy Award-nominated actor John Hawkes plays Patrick, a character who, as a leader of a farming community in the Catskill Mountains, holds a cult-like position over the other characters.  Playing a character fueled by his own cult of personality and mostly using his chilling voice as his weapon of choice is a definite stretch for most actors, but in an interview with the Los Angeles Times after a screening of the film, Hawkes elaborated on how he managed to create his portrayal of Patrick.
When asked how Patrick sees himself, Hawkes answers that it wasn't something that fueled his performance.  He explains, "You never want to try and play the subconscious of a character… it was most interesting for me for him to believe himself, it just seemed a stronger choice and also I'm trying to convince others to see my way.  But I often wondered in the soul's darkest hour, three in the morning, alone, if he looked in the mirror exactly what he would see."
How did Hawkes create Patrick's cold, calculating presence?  Hawkes explains that it was all about the slow burn to reveal Patrick's evil ways.  In addition, Hawkes believes this helped strengthen the character of Martha (Elizabeth Olsen), who gradually falls in with the agrarian cult.
He confesses, "I do know that it was important to myself and speaking to [director] Sean [Durkin] that for this overall good of the story it would be not beneficial to us if the instant that we met Patrick that we would be able to say, the devil incarnate; you know he's a mustache-twirling Svengali, he's a con man; he's pure evil.  For several reasons — I think we've seen that portrayed in cult leader types a lot in film and literature.  But more importantly for the story I think it gives Martha's character a great deal more credibility the more believable and human oddly that Patrick is.  In other words, if as an audience we immediately see what he is deep down Martha would see the same and I think our journey with her would be less interesting; her credibility wouldn't be what it is… In other words, as an audience we need to somehow relate to her joining these people.  We have to say, I kind of do see why she would have gotten with these people, why she follows that god, and also this is keeping with the lucid nature of the film, I believe…  I guess as an actor if something is written pretty strong you can play the opposite of it to interesting effect and often just to figure out the truth of a character then layer it over with as much 'stuff' as I can so the truth of the character will pop through in pieces rather than the moment you meet him."
Though I haven't yet seen the film, every clip I see of Hawkes is deeply chilling… so I imagine we could call his portrayal a great success.
Martha Marcy May Marlene is now playing in limited release.