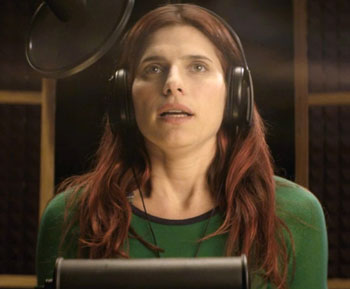 Lake Bell is one of the growing number of actors who have decided to go into business themselves.  Bell is the star, writer, and director of her film In a World…, which is about the male-dominated world of voiceover acting.  She spoke to The New York Post about working on the film and why she is so intrigued by voice acting.
Bell reveals that she utilized her voiceover skills while shooting the film to voice an unlikely character.  She says, "I always wanted to be an actor, but voice acting seemed like the ultimate acting tool, because you could be anyone. The blind voice will allow you to create characterizations that are different nationalities, different genders. Fun fact in the movie is that I play Gustav Warner's — played by Ken Marino — big fat Jewish agent guy on the other end of a phone throughout the movie. That's not something I get traditionally cast as."
Like many voiceover actors — or any actors trying to perfect an accent — Bell's character in the film (and Bell herself behind the scenes) uses a tape recorder to record different voices to practice later.  She points out, "That came into play when I went to drama school and was encouraged to go out in the field of the world and be investigative about finding authenticity in the dialects you practice for characters. So I would go out and sort of elicit the help of strangers with a tape recorder, and I really took it to heart. I consequently have shoe boxes and shoe boxes' worth of cassette tapes of random people telling me things in weird accents."
Though the film was a challenge for Bell, she reveals that she has had to act with her voice plenty of times in the past even though it hasn't been to the extent that she would have liked.  She explains, "I have yet to play a heavy characterization. I've had a couple moments where I've played foreigners, which is really fun. And certainly in theater, it's even more forgiving. But I like to play normally with cadence and the musicality of a character."
I wonder if Bell's work on the film will lead to more voiceover work overall.  It's obvious that she has a deep affection and talent for it!