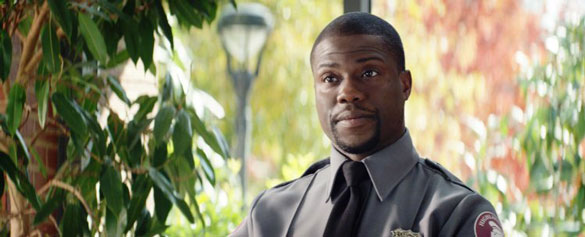 If your friend was frozen in an iceberg Captain America-style for the last few years and just got thawed out, you'd have to forgive him or her for thinking that Kevin Hart is the biggest star in Hollywood. February's About Last Night will be the third movie starring Hart in 10 weeks after December's Grudge Match and January's Ride Along. While 2014 audiences will get a four-month break from Hart, he'll be back in multiplexes in June with Think Like a Man Too, which also stars Hart's About Last Night co-star Michael Ealy… a reunion weeks in the making!
Even Hart's biggest fans are probably thinking it's a bit much. Few actors would be expected to carry three wide release movies in less than three months. For me, it has brought back nightmares of Ben Stiller in 2004.
If you've managed to push Ben Stiller's 2004 out of your mind, I'm sorry that I am about to remind you all about it. In the first six months of 2004, Ben Stiller was the star of four wide release movies (January's Along Came Polly, March's Starsky & Hutch, April's Envy, June's DodgeBall: A True Underdog Story). In other words, during the first half of 2004 a Ben Stiller movie was opening about every six weeks. Along with his three episode stint on Curb Your Enthusiasm that aired in January and all of his promotional appearances, it was Ben Stiller overkill in the first half of 2004. He then popped up for a memorable, but quick cameo in July's Anchorman: The Legend of Ron Burgundy and closed out the year with December's Meet the Fockers.
It's no surprise that besides his usual cameos Stiller was mostly absent from theaters from 2005 to 2007 (his only starring roles during those years were in Madagascar, Night at the Museum, and The Heartbreak Kid), and ever since he has been far less prolific. While it's hard to say exactly if Stiller's 2004 movie blitz necessarily hurt his "brand" in the long run, trying to maintain that schedule over the next few years would've definitely burnt audiences out on his movies. Similarly, after studios scheduled four Dwayne "The Rock" Johnson movies in four months last year (February's Snitch, March's G.I. Joe: Retaliation, April's Pain & Gain, and May's Fast & Furious 6), Johnson only has one film scheduled for release this year and is currently only scheduled for two in 2015 (including Fast & Furious 7, which was delayed from 2014 to 2015). Whether Johnson's busy 2013 will have any negative effects remains to be seen.
Of course, Hart can't be blamed for his 2013-2014 release schedule. Scheduling decisions are made by studios, and Hart's three movies were each painted in specific release corners because of their content. Grudge Match was always slated to be a December release and About Last Night is clearly a tailor-made Valentine's Day release. As for Ride Along, it's the type of comedy that would only be a #1 box office hit in January because of lack of competition. Studio executives will position a movie wherever they think it will be most successful, regardless of reason. In the case of Stiller in 2004, Johnson in 2013 and Hart in 2014, they wanted to strike while the iron is hot (with little concern of how it affects the iron, naturally).
Certainly there are other actors who are far more prolific — Samuel L. Jackson, Danny Trejo, and James Franco come to mind — but Jackson and Trejo are usually in supporting roles (and most of Trejo's films aren't major releases) and about half of Franco's movies are offbeat arthouse projects that clog up film festival schedules but don't tend to reach multiplexes. Unlike Hart right now, you generally won't see two commercials for two totally different movies featuring them during the same broadcast or see their faces plastered on advertising and promotional appearances for two different movies in the same month.
So, should Kevin Hart and other actors who find out that studios are scheduling their films close together be concerned? While struggling actors might initially see it as a good problem to have, an actor of any level has to always be concerned about the potential of overexposure. I always thought Stiller was lucky he didn't face more of a backlash in 2004, but it's probably because he was a lot quieter in the years immediately following.
I wouldn't be surprised if Hart's management advises him to scale back his leading roles somewhat over the next few years. It might mean leaving a few potentially lucrative roles on the table, but he'd probably be better off in the long run.