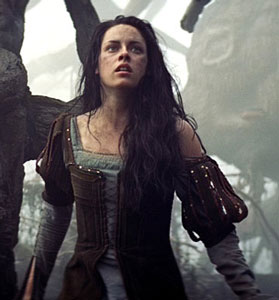 It may not be your grandmother's (or even your mother's) Snow White story, but Universal Pictures' Snow White and the Huntsman is set to dominate the box office this weekend. Starring Kristen Stewart, Chris Hemsworth and Charlize Theron, the action/fantasy flick is a gothic update on the classic Brothers Grimm fairy tale.
"We're not trying to take Snow White and turn her on her side," explains Stewart, who spent four months honing her horse-riding skills and English accent in preparation for the role of the fictional princess, in a recent press release. "We stay very true to who she is in the story. She represents a reminder of just how great people can be to one another."
Snow White is Stewart's first silver screen appearance since Breaking Dawn – Part 1, the latest installment of the Twilight series that made her a household name, arrived last fall. She says she found it refreshing to play such a modest young woman in the new movie.
"It's been interesting to play a young girl who is completely unaware of any vanity. She just has none," she says of her Snow White role. "In almost every other role you play, you're at least aware of yourself and might have to play a girl dealing with vanity as she grows into a woman. The fact that Snow White has absolutely none of that, and Ravenna has the ultimate opposite, says something very nice about what people find beautiful in life."