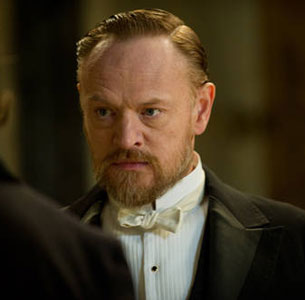 Sherlock Holmes' archenemy — who actually only appears in two of Sir Arthur Conan Doyle's Sherlock Holmes stories — has been portrayed on radio, television, and film by such acting luminaries as Orson Welles, Laurence Olivier, John Huston, and Vincent D'Onofrio. 
So when Jared Harris stepped into the role for the latest Holmes film, Guy Ritchie's Sherlock Holmes: A Game of Shadows, he had a vast number of performances to be potentially influenced by. 
However, Harris tells the Miami Herald that more than anything else he was influenced by the style already established in Ritchie's previous Sherlock Holmes movie.  He also talks about how he ended up acting even though he initially was hesitant to do so.
Harris explains, "You could see from the first film that they had taken such a fresh approach to treating the characters, the period, the subject matter. It was exciting because Moriarty had to be a re-imagined version of the character than we had seen beforehand.  It was a big mountain in a sense that the character has to pose a formidable problem to Sherlock Holmes. How that was going to be achieved, I didn't know. But I knew it had to happen."  Still, Harris decided to treat Moriarty — one of the most famous villains in fiction — as he were portraying a real person, not unlike how he had to invent a fictional version of John Lennon for the movie Two of Us, in which Lennon and Paul McCartney meet and discuss a Beatles reunion in 1976.  He points out, "Even when I am playing a real person, I am playing a character. It is what is in the script. When I played John Lennon, the conversations he had with Paul McCartney did happen but not in one night."
Harris claims he decided not to do extensive research into real-life figures he has has portrayed when he played Andy Warhol in 1996's I Shot Andy Warhol.  As much as he wanted to be accurate, he obviously considers the script more important as it is the source of the story and says ninety percent of his performance of Warhol came directly from the script.
Though Harris has amassed quite a resume since he began acting, it was something he did not consider as a career until  his twenties — even though he is the son of the Oscar-nominated actor Richard Harris.  While attending college in America at Duke University he had his first stage experience, recalling, "I finally decided to try out for a play. I thought I would do just the one play to see how I liked it." 
But he obviously enjoyed it, because after graduation he pursued an acting career and made his film debut in 1989.  Still, he has his moments of self-doubt about that initial audition, as he mentions, "The only time I keep wondering if I made the right decisions are those months where there are no acting jobs."