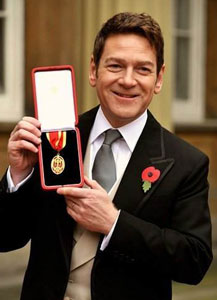 Kenneth Branagh has played plenty of noblemen and knights as the star of many Shakespeare plays on both stage and screen, so it's only appropriate that he finally joins their ranks.  Last Friday Branagh was knighted by Queen Elizabeth, who first saw Branagh on stage in 1980 as Hamlet at the Royal Academy of Dramatic Art when he was only nineteen years old.   
Branagh, who was born in Northern Ireland, felt particularly honored to be knighted during a year that had already seen so many major events in the United Kingdom.  He says, "I'm so very pleased this has happened in the year of the Queen's Diamond Jubilee, the Olympics and the Paralympics.  It's been a hell of a year for the UK and I feel very honoured to be a tiny part of this part of it." 
Of course, Branagh also pointed out that he was more honored with the title being bestowed for his charity work than his acting, adding, "It is special because it is to do with my roots in Northern Ireland and to do with a lot of work other people do and I'm happy to be associated with, lots of charitable institutions and real hard work on the part of a lot of people over there.  I'm pleased the link with Northern Ireland is recognised, I'm very proud of coming from there."
Branagh joins a number of other famous UK actors to receive the honor, including Alec Guinness, Michael Caine, Patrick Stewart, Ben Kingsley, Ian McKellen, Christopher Lee and Laurence Olivier.