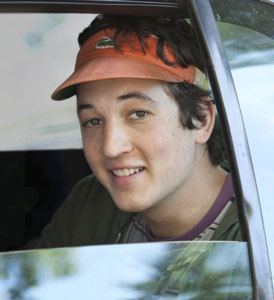 After starring in Project X and the new film, 21 And Over, Miles Teller has mastered the art of playing a party boy.  But Teller isn't paying attention to the role similarities.
"I didn't really give a shit about that.  As far as being an actor goes, I know I have range, so I wasn't really too worried about it," he said in an interview with The Huffington Post.  "Also, when I read the script, it was the funniest script I ever read.  I was excited to do it.  Project X, it was more of a cameo.  With this movie, I always wanted to do a rated-R comedy.  I just wanted to make something that would give people that experience."
Teller read the script, from Hangover writers Jon Lucas and Scott Moore, and was excited to be attached to the project.  "Dude, when I read that script, I thought I had never read something that was so close to my own voice." 
The actor was also able to take advantage of his improv skills while shooting the movie.
"A lot of that movie is ad-libbed.  In the beginning, that whole monologue that I do when I'm pacing the couch and saying, 'This is your 21st birthday.  If you were in Africa, you'd have to kill a bear.'  'But there are no bears in Africa.'  That was just pure ad-lib," Teller recalled.  "I was like, 'Dude, leave the camera on and let me run for 20 minutes.'  Jon and Scott, they realize how to get comedy.  They let us use our strengths.  I'm pretty good at ad-libbing and improv and Sklyar [Astin] is too.  We'd do the first take on book…ish.  Then we'd loosen it up and then he'd give us a couple of takes to do whatever we wanted."
But the main challenging part of 21 And Over was preparing for his many naked scenes.  "I worked out for a while.  I felt pretty good about what I was going to look like on camera," Teller said.  "You're still there with a tube sock on with 40 crew guys around and the sock feels like it's going to fall off the whole time.  It never feels secure.  Then you're having to do the lines and the scene and all these people around.  The first one was a little nerve-wracking.  After that, we would just stay in the sock in between takes.  It was just freeing.  There would be a nice breeze going, it felt good."
21 And Over opens in theaters, Friday, March 1.