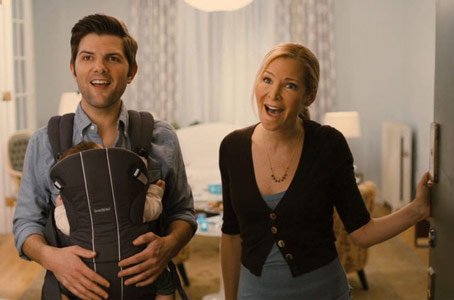 Just because Friends with Kids arrives in theaters Friday doesn't mean that star Adam Scott thinks he was deserving of leading-man status in director Jennifer Westfeldt's film, which is centered around a group of thirty-something couples who decide to have children and then date other people.
"I was lucky that Jen wanted me to do it," explains a self-deprecating Scott. "I reminded her many times that she could find someone far more famous than me and have a much easier time getting this thing made. I didn't get (what she saw in me). I was like, "Just have Jon Hamm play the part."
Of course, Scott is selling himself short. Since joining the cast of NBC comedy Parks & Recreation two years ago, he's become one of the hit series' most popular characters. Before that, he starred in Party Down, Starz' much-missed cult hit about a Los Angeles catering company.
Friends with Kids premiered at the Toronto International Film Festival to positive reviews last fall and will receive a limited release this Friday. The independent comedy also stars Westfeldt, Hamm, Megan Fox and Saturday Night Live comediennes Kristen Wiig and Maya Rudolph.
"Jen didn't write it with me in mind, but she asked me to come do a reading of it at her house very early on," he recalls. "I think she finished the script the day she had us reading in her house. I jumped at the chance to do that."