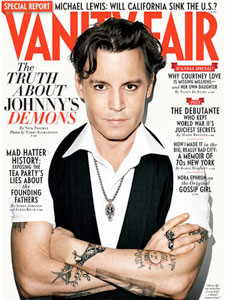 Johnny Depp — the highest-paid actor in Hollywood today — doesn't think he's worth the money he's earned. 
In fact, according to his most recent interview in Vanity Fair, it appears Depp doesn't even want as much money as he's been earning — but he'll take it anyway. 
Depp — who is rumored to have made as much as $300 million from the Pirates of the Caribbean franchise — admits that he's no longer taking his paychecks for himself but for is children.  "Basically, if they're going to pay me the stupid money right now, I'm going to take it.  I have to. I mean, it's not for me. Do you know what I mean? At this point, it's for my kids. It's ridiculous, yeah, yeah. But ultimately is it for me? No. No. It's for the kids."
Nevertheless, Depp wasn't always so nonchalant about how much he's made.  In the same article by Nick Tosches, Depp's close friend, he recalls that Depp used to pump gas in between acting gigs and used to attend Scientology meetings because they paid visitors $3 per meeting.  But if the money doesn't mean much to Depp today, what reward does?  It turns out that it's actually compliments.  In particular, Depp was touched by a compliment by his good friend and Rock and Roll Hall of Famer Keith Richards of the Rolling Stones, who said "beautiful things" about Depp's uncharacteristic singing role in the musical Sweeny Todd.   After all, if Keith Richards is telling you that you're good… you know it has to be true.