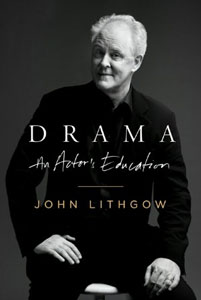 John Lithgow, star of stage, television, and movies, has just released his memoir Drama: An Actor's Education.  One would imagine that the veteran Lithgow, who made his on-stage debut at the age of two, would have pages upon pages of advice for aspiring actors.  In fact, in an interview with NPR Lithgow reveals that he's given a key piece of advice about acting to his own children.
"I tell young people, including my own kids, don't do this, it's too difficult. It's a career full of rejection, disappointment and failure. It's murderously hard on the ego. Don't become an actor," says Lithgow, perhaps crushing the dreams of many would-be thespians.  However, he adds, "[But] I always add at the end, if you're going to become an actor, you ignore everything I say anyway, as I did. I mean, the choice to become an actor is very courageous, but like all courageous acts, it's very foolhardy too, you know."
But beyond that Lithgow does have more advice for actors who brave on in an attempt to become a successful actor.  He suggests that young actors need to take a more proactive role in getting roles, explaining, "They've made the decision to become actors, so I'm certainly not going to tell them to give up. I tell them to just stay creative, try to develop things all on their own that they themselves can control. Try writing. Try directing. If there's a part you really want to play, figure out a way to produce it."  While it may not be likely that you'll pull it all off, Lithgow suggests that such moves will fuel you. 
He adds, "Chances are, you will never get a chance to follow through on these ambitious projects, but the reason will be someone has finally hired you to act. But in the meantime, you have kept yourself alive with just creative energy. You have given yourself hope that you can accomplish something. It's very important to stay creative and not simply to wait around for people to want you. It's the hardest thing about the business."
Drama: An Actor's Education is available now at Amazon and other book stores.