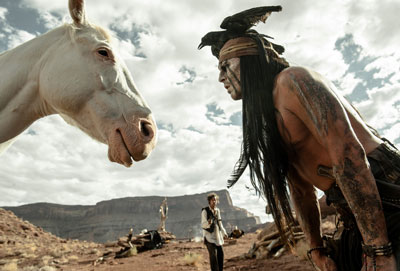 Captain Jack Sparrow never had to contend with horses on the high seas, but Tonto, the Lone Ranger's trusty sidekick, does.  Johnny Depp, who stars as Tonto in Disney's new film version of The Lone Ranger, revealed the The New York Post an almost catastrophically dangerous situation he found himself in while riding Scout, his horse, during filming.
Depp reveals that the mishap happened because his horse just wanted to be a horse.  He explains, "We'd been running the horses pretty hot that day and went down a couple of paths, and that all worked out fine. And we changed paths in order to get closer to the camera car, and the horses were still running real hot; they wanted to run.  And Scout decided to jump over a couple of obstacles — and yeah, user error, I don't know what happened, but it happened very fast and very slow."  Depp ended up falling off the horse and was being dragged as he held on.
He continues, "It all just sort of happened, and I saw everything very clearly, which was the horse's very muscular front legs moving at a very dangerous speed. And I was still holding on to the mane like an idiot, trying to get back up. And at a certain point you have to make a decision: Do I go down and hit the deck on my own? Or do I wait for the hoof to split my face in two?  So I decided to go down on my own and then, incredibly, the horse lifted its front legs, and he missed me, and he could have crushed me in seconds. I was very lucky."
Though he only suffered a few bruises on his stomach, this is actually the second time Depp suffered an injury during a film.  While working on Pirates of the Caribbean: On Stranger Tides, Depp injured his back.  He told the Hollywood Reporter then, "I must have done something to my back during a stunt, and ended up with this bad sciatic situation.  It was this horrible, grinding electricity going through me. I kept shooting, there was no choice; I'd just limp on set.  It was monstrous, man — so horrible that I actually started to like it!  It was bad, and I had it a good three weeks to a month. But I got used to it and kind of missed it when it was gone."
I doubt anything like this ever happened on the set of Ed Wood, right?