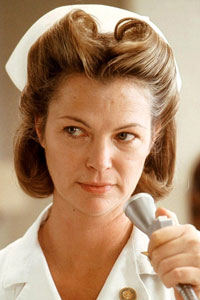 Louise Fletcher is most famous for her role as the viciously icy Nurse Ratched in the film adaptation of One Flew Over the Cuckoo's Nest.  But the actress says she actually can't stand watching the movie.
"I find it too painful," Fletcher told Yahoo! News.  "It comes with age.  I can't watch movies that are inhumane."
Nurse Ratched was nothing if not inhumane—torturing her charges at the mental hospital, including R.P. McMurphy, brought to life in one of Jack Nicholson's best roles.  Fletcher and Nicholson both won Oscars for their portrayals—the film also won Best Picture that year.
When the 78-year-old actress first saw the film with an audience back in 1975, she was surprised by the way the crowd reacted to a scene where the nurse is choked.  "They all stood up and cheered in the theater and were stomping their feet," she recalled.  "That got to me.  I realized, 'Hey, I created a real villain here.'"
However, watching the film back now, Fletcher said, "I was really shocked in those scenes where I was actually so cruel."