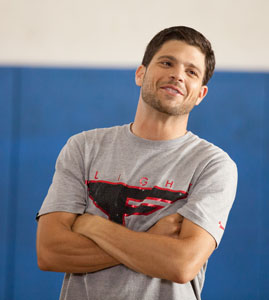 Playing the same character on a fairly one-dimensional TV series for seven years can understandably lead to an actor being pigeonholed, but Entourage star Jerry Ferrara is looking to prove he's more than the posse member he played on the HBO series, which aired its final episode last summer.
"I'm proud of what Entourage was and what the character was and I think being heavily identified means I did a good job," the "Turtle" actor said in a recent interview. "I also was excited for the challenge – like, I know that there will be some people who like think that that's all I can do. And you know what: give me that opportunity, because I like that challenge."
Ferrara's first starring turn in a feature film, Think Like a Man, arrived in theaters last Friday. The 32-year-old is also set to appear in upcoming thriller/action flick 7500, about a group of international travelers who encounter a supernatural force aboard a flight across the Pacific Ocean.
"It's great to branch out and do different things, because comedy is something I never thought I could do," explained Ferrara, who's a little nervous about his foray into action films. "It's a lot different than like, 'Hey let's go shoot this scene where you and I have a coffee talking about love.' It's a whole different beast, so, I don't know if I'm good or I suck, but I'll be happy with mediocrity."