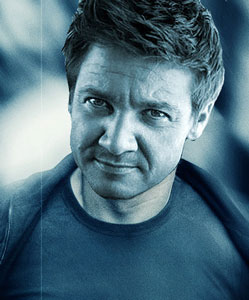 While Jeremy Renner is on an incredible roll since starring in the Oscar-winning The Hurt Locker, that doesn't mean he's necessarily happy with everything he does on screen.  In fact, in an interview with The Los Angeles Times he actually reveals that he's disappointed with his role in The Avengers as the bowman Hawkeye.  He also talks about how his career has changed from small indie movies to a big budget action star.
Renner admits that he had no inkling that he'd turn out becoming a franchise action hero.  He says, "Not by any stretch of the imagination. It just sort of became opportunities that I don't think anybody really would want to turn away. As long as it was in the realm of what I feel like I could bring something three-dimensional and truthful and honest, these are worldwide movies, which I thought was a great opportunity to be a part of cinema that people see. That's interesting to me. Like The Hurt Locker, we didn't know what the heck that was gonna be. And The Town, we had an idea, but who knows. You just never know. But these big movies like The Avengers, I couldn't say no to, really, so I thought I'd explore that. It kind of just fell my direction, and I've been blessed with the opportunities to learn something new."
One of the challenges Renner had to face in his new career direction was playing a villainous (but mind-controlled) Hawkeye for most of The Avengers — a story arc that he wasn't thrilled with.  He explains, "At the end of the day, 90% of the movie, I'm not the character I signed on to play. I'm literally in there for two minutes, and then all of a sudden… All I could really work on was the physical part of it all, because that didn't change. That was just the biggest challenge to overcome in playing the guy. Also, we're pretty much introducing a new superhero character to everyone in a movie where there's a thousand superheroes. So there's not a lot of back story or understanding we can really tell about who Clint Barton is, or Hawkeye, and is he working for SHIELD or not. There's a lot of unanswered questions, even for me. And I was OK with that. At least I was still in the movie. And I was glad for that. The closest thing I could really link to was Scarlett [Johansson's] character, Black Widow, because they have a history. And that definitely plays in the movie, I think."
After revealing that he much preferred playing "good" Hawkeye, Renner obviously expresses disappointment with having to play, as he puts it, "this sort of robot, essentially."  Nonetheless, he's just happy to contribute to the success of the movie, adding, "You know, there are a lot of people in that movie. And a lot of important characters. And my character, I felt like if I can help serve story, then I did my job."
I get it — just because you're in the #3 movie of all time doesn't mean you have to be crazy about the part you played in it.  His criticism is definitely valid, and I'm certainly looking forward to more "normal" Hawkeye in the just-announced Avengers sequel.