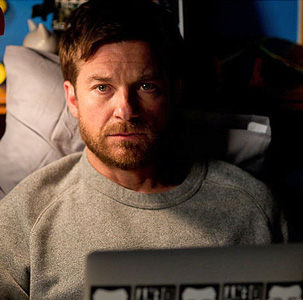 In Disconnect, the usually very funny Jason Bateman plays a career obsessed lawyer who is unaware that his son is being cyber bullied.  Speaking with the Wall Street Journal, he talks about taking on a dramatic role, how he manages to get himself emotional, and what he surprisingly thought was the most difficult part of shooting the film.
On why he went against his typical roles by starring in Disconnect, Bateman admits he wanted to embrace something different.  He explains, "I'm not invited to do a whole lot of dramatic stuff, so it's great to take these opportunities when they are brought to me. I'd love to do a lot more of it. The kind of comedy that I am drawn to seems to live pretty close to drama—it's not super broad. So it's nice to be able to cross over into a dramatic moment in a scene. Disconnect doesn't jump into comedy very often. I guess I'm drawn to stuff that feels like something you can see or feel or experience in your everyday life whether it be comedic or dramatic—not too far from the middle."
In fact, he feels better prepared for doing emotional scenes at this point in his career because he has an easy way to access his feelings — his kids.  He points out, "Doing emotional scenes has become a whole lot easier since I've had kids. It's turned me into a real softie. I make sure I have my iPhone nearby and about five minutes before we start shooting I'd just scroll through pictures of my kids. And sometimes you can get emotional thinking about great things with them, and sometimes you have to trick yourself into thinking about awful things, which is a horrible thing to have to put your heart and mind through. But it's a quick way to do it."
Now if getting emotional isn't difficult for him, what is?  Bateman actually says the texting scenes were quite difficult — but thankfully he had help.  He says. "There was a prop guy off camera with his computer, and you create a real-time conversation. If there was a lot of typing—and I am not good at typing—they had another guy on the set who programs the computer so no matter what key on the keyboard you hit the correct sentence comes out."
Disconnect opens in limited release on April 12.