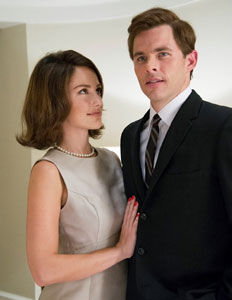 It's no easy thing playing one of America's most well-known presidents.  So James Marsden had to do some major prep before portraying John F. Kennedy in Lee Daniels' The Butler.
"It was a week and half, which is not a lot of time to go in and play John Kennedy," he admitted in an interview with Vulture.  "So I immersed myself in whatever book I could read, I listened to his speeches over and over again, because the first thing that popped up in my mind was, 'Don't screw up the accent!'  So I had my sights set on that.  And it wasn't a long shoot—it was like a week—so I let that kind of be my guide.  Definitely a crash course, but it was great." 
Marsden is probably best known for his roles in the X-Men franchise and as Liz Lemon's boyfriend on 30 Rock.  So he's never played a famous person of this magnitude.  "[I've never played] someone who is so iconic that everyone has a clear image of what that person stood for and how he sounded," he said.  "We all know who he is, what he looks like, what he sounds like, so you want to get that right.  You're dealing with history, and a very sensitive part of history, so I wanted to bring as much as I could to that."
But the actor tackled the role head-on, including making his transformation complete with a wig and makeup.
"I had prosthetics.  I had to wear plumpers in my cheeks, and they made my jawline a little bigger, and little prosthetics on the nose," Marsden explained.  "And I messed with the accent at home.  I have a little home recording studio, so I recorded his speeches at home, and I sent them to Lee, 'What do you think?'  He sent to everybody, 'Listen to Marsden do his thing!'"
The Butler opens in theaters August 16.