Though no details are being given, it is confirmed that Will Arnett and Ricky Gervais will appear in the seventh season one-hour finale of NBC's "The Office", scheduled to air May 19th.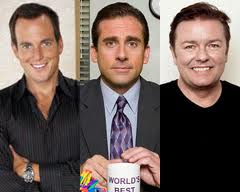 Gervais appeared as David Brent in one scene in a January episode with Steve Carell's Michael Scott, making this his second appearance on the hit comedy, while the season finale would be Arnett's first time on the show.
With Carell's  final episode scheduled for late April,  several high-profile actors have expressed interest is appearing on the NBC series, including comedian Will Ferrell, who will be in a multi-episode arc. "The Office" has been renewed for an eighth season.