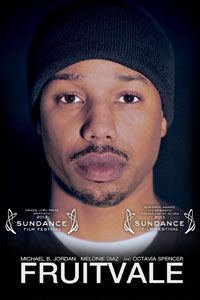 Though little more than halfway through his 20's, Michael B. Jordan has already portrayed his fair share of diverse characters on both the large and small screen. In fact, you might recognize the handsome star from his impressive work on shows as varied as The Wire, Friday Night Lights, and even All My Children. Yet despite an ever-expanding resume that includes 2012's surprise hit, Chronicle, what the versatile young actor had never done, until now, was play a real person.
That all changed last year when the scorching talent signed on to play slain Oakland youth, Oscar Grant in Ryan Coogler's gripping Fruitvale Station. Now, Jordan is already garnering Oscar Buzz for his emotional performance in the gritty pic, which won both the Audience Award and The Grand Jury Prize at this year's Sundance Film Festival, and follows the last full day of Grant's life leading up to his fatal point blank  shooting by Bay Area Rapid Transit Cop Johannes Mehserle on New Year's Day 2009.
Needless to say, the story warranted the utmost respect and effort from Jordan, especially considering the fact that Grant's family members might see the film. The actor was particularly focused on their response to his portrayal, but luckily they seem to approve. "His aunt stood up and said, 'You know what, Michael, I want to thank you, because there's certain moments in this movie where I couldn't tell the difference between my nephew and yourself," Jordan says. "That's what I really needed to hear. They're the ones that knew him the best. Their opinions are the ones that really matter."
Of course, doing right by his character was only one facet of playing this challenging and emotional role. But  Jordan was up to the task. "I really wanted to do something that was a little bit more intimate, [a] character-driven piece," he says. Something I would be able to be a lead of, [to] show people I could carry a film. I was just itching to show what I can do."
And boy did he, aided by a healthy dose of internal pressure. "Now it's like, 'You better deliver,' " Jordan says. "That's not what (the filmmakers) said, but that's how I took it. You get to know them, and then you say, 'Cool, now I'm about to go off and do this thing."
Now as Fruitvale Station roles out to more and more theaters and continues to gain momentum heading into Awards season, Jordan is happy to have challenged himself thoroughly with his first leading film role, not to mention to have gained the support of Grant's family. Everything else is simply the icing on the cake. "For people to even consider me or my work to be worthy of (awards) is very humbling," he says. Well Michael B. Jordan, you earned it.
Via NY Post
Written by Brad Liberti