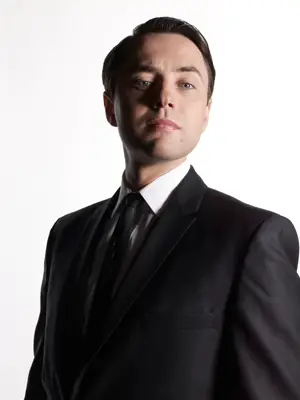 from AMC.com
Q: Pete and Trudy are pregnant! Did you know this was going to be part of your story arc this season?
A: Yeah, I guess Matt told me a couple episodes in that something like this was going to happen. It's pretty exciting…. I'm pretty good at [holding babies], but I'm sure [if I do,]the child's mother will be terrified.
Q: Is it strange to be directed by fellow cast member John Slattery?
A: I didn't think of him as a fellow cast member when he was directing. He's got really great ideas and he worked really hard…. John's been with us almost every episode for four years and I think that the big difference is that he's been a presence on set, whereas most directors are dipping in for a week here or a week there. Even if they've done something on the show every season, they haven't been there for every episode or for the development in every character's life like John has been. So I think it was great to have someone who was one of the family.
Q: How do you like the new SCDP office?
A: I miss the old office just because we were there for three years and it was kind of like home, but the new place is great. It's wonderfully designed and I love John Slattery's office. I think it's brilliant — that huge white room, funky paintings on the wall. I like the conference room. I like that we have one wall that's glass that we could put extras behind, or you can see a character coming or going.
Q: You share some very intimate moments with Elisabeth Moss and Alison Brie throughout the series. How does that affect your personal relationship with these actresses?
A: I'm close with everyone on set…. I've known Lizzy Moss since I was 19. I think she's lovely and I consider her a very good friend. Alison I met four years ago and I certainly don't work with her as much as I work with Jon Hamm or John Slattery or Christina… but I think she's lovely.

Q: In the Season 4 premiere, you and Elisabeth Moss get a lot of funny scenes. In this episode, most of your scenes are serious. Do you have a preference? Comedy or drama?
A: No, no preference…. I think comedy is difficult especially when you're doing it on a television show because there's such a small amount of time to put it together. I think me and [Elisabeth] have more of a history doing drama together and we may be more comfortable with that, but John Slattery is very fun, so he helped me out a lot with all the comedy bits in Episode 4.
Q: How did you know Elisabeth?
A: It's a small industry. We did something together a long time ago and then we bumped into each other here and there along the way. It's one of those industries where only a small percentage of the actors work and only a small percent stick with it even if they don't work. So if you've been in the industry 20-some years, you really do know most of the people who've been there with you.