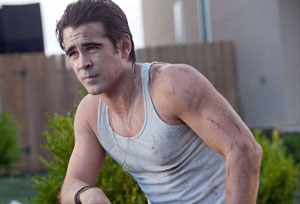 Fright Night's newest villain Colin Farrell, who plays the vampire next door in the 80's reboot that opens in theaters Aug. 19th, appears to have undergone quite a transformation that has nothing to do with fake teeth and blood capsules.   The thirty-five year old recently discussed his acting career with USA Today where he lets fans see a more calm, cooler, simple and healthier side than his former self.
During the interview the once bad boy turned family man, who still hasn't lost his fire, talked about how he would deal with his fame if it ever became too much to handle.  "Walk the (expletive) away from it. You don't want to be photographed by the paparazzi? Say no to the $120 million film. Eventually they'll stay away from you. But you won't have the other things the $120 million film brings into your life: the good seats at the sports event, the backstage pass to the concert, the nice reclining chair on the airplane."  Not something you typically here these days with most actors.  Farrell, like most celebrities that haven't, appears to have wrapped his head around the good and the bad of being a Hollywood icon.  When it comes to making huge box office hits with plenty of money, the soon to be Total Recall star isn't shy about his feelings on that topic either. "A big paycheck, absolutely. To be able to provide for my family, I'm not going to bitch about it," he says. "At times you feel like you have to apologize for being in big films. You have this notion of selling out. At this stage, I would love to do big films that are seen by a lot of people and do smaller films that probably emotionally mean more to me."
Hence his switch from the more serious characters he plays, to an R-rated comedy like Horrible Bosses.  "I'd just come off of playing men going through difficulty in their lives. So I told my agent I wanted to have some fun and do something that might have more comedy. In a fortnight, both of those scripts came."
Over all Colin seems to have undergone a transformation not only in his professional life, but his personal life, changes that have helped get him back in the game.  "I'm pretty clear on why I go to work now.  Before Fright Night, I thought the last few years of work had been gratifying, and I loved it." 
His two children are also a driving motivation as well.  "I understand and have a respect for being away that I didn't have for the first five, six, seven years. With two boys as well, I have a respect for missing people that are in my life, a respect for being away from my kids.
Colin Farrell's portrayal of Fright Night's 400 year old blood thirsty vampire Jerry can be seen at the  box office this weekend, with Total Recall due in theaters on Aug. 2, 2012.
 via USAToday