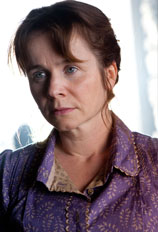 Although British actress Emily Watson was grateful to be cast in Steven Spielberg's epic, WWI film, War Horse, she admits that the role "feels a little bit payback, because I spend a lot of time grubbing around in the dodgy end and working hard."
In an interview with Huffington Post UK, the 45 year-old speaks about working steadily in film since her breakout role in 1996's Breaking the Waves.  But it was the movie Hilary and Jackie four years later that led to her being cast in War Horse. 
Watson says Spielberg "made that call because he'd seen me in a movie ten years ago, Hilary and Jackie.  We met at a nominees' luncheon in Hollywood, he came over, and said, 'Well done.'  Ten years later, I got the call."
After being nominated for Oscars for her first two films, Watson has mostly spent her career doing smaller films.  Last year she made the Fred West TV drama Appropriate Adult—she was just recently nominated for a Golden Globe for her role.  At this point, Watson acknowledges that she can still find satisfaction in doing both independent films and larger productions. 
Watson says, "It's great to mix it up and have both.  As an acting workout, in Appropriate Adult, I was going for the burn.  I was aching and sweating at the end of that, but this was a great, epic thing to be part of.  When I read the script, I knew it seemed good, but I thought, how the f*** are they going to do that?"
But as evidenced by critics' love of War Horse, Spielberg and Watson have created a project worthy of her talents.