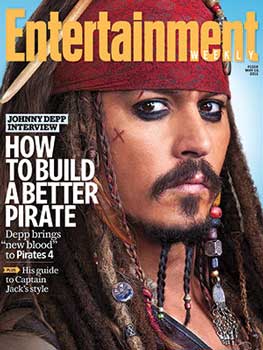 This week's Entertainment Weekly cover features the Pirates of the Caribbean blockbuster franchise, On Stranger Tides and attempts to return the focus of the film back on to Captain Jack Sparrow.
The film's star, Johnny Depp explains, "I felt if we were going to do a 4, that more than anything we owed the audience a fresh start, without all the complicated mathematics of 1 colliding with 2 and 2 colliding with 3. I felt like it was important to eliminate as many complications as possible."
The first three Pirates films have earned $2.6 billion in worldwide box office alone (that figure does not include home video, theme park or merchandising), with Depp earning between $32 million and $35 million.
Depp says he did not see all of the previous Pirates installments. "They had to invent a trilogy out of nowhere," he says. "It was plot driven and complicated. I remember talking to Verbinski at certain points during production of 2 or 3, and saying: 'I don't really know what this means.' He said, 'Neither do I, but let's just shoot it.' This guy is this guy's dad, and this guy was in love with this broad. It was like, 'What?'"
Depp, who famously does not like to watch his own films adds, "I did see the first one. I have not seen the second one or the third one."
Maybe this time around Depp will make an exception and see On Stranger Tides, which opens in theaters May 20.
To read more, go to: ew.com