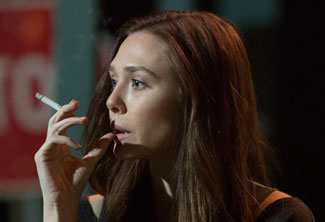 In the last few years, Elizabeth Olsen has become Hollywood's indie queen. With edgy roles in movies like Martha Marcy May Marlene and Silent House, the actress is not known for mainstream fare.
She talked to Moviefone about her new off-kilter role in Spike Lee's Oldboy and why she chose to work on such a bloody and shocking project with co-star Josh Brolin.
"My whole thing is — if someone sees a movie and it's some kind of dramatic type of film and it's not light fare — then people better walk away talking about what they just saw. If you do that, then that's enough for me," Olsen explained. "That's entertainment! If people are able to be surprised and shocked and horrified and mad then you're making them do something. They have to have an opinion. And I like that. I'd rather people hate something then have no opinion at all. That's more offensive to me."
The 24-year-old's career is also about to take a big turn as she tackles big budget pictures with Godzilla and The Avengers: Age of Ultron. Fans are eager to see her on the big screen as Scarlet Witch in the 2015 Marvel sequel.
She shared, "I just love Scarlet Witch. I love her. It's so funny because I'm often talking about all these psychologically damaged people, but when you talk about Scarlet Witch… She is a messed up lady. She has got more sh*t to deal with than anybody else I know. I'm excited to figure out what's appropriate to use for her, because there's so much material from all of these decades, and we're going to tell this one story. So to be able to choose what you're going to bring into it from all of this abundance, it's really fun."
Oldboy opened on Nov. 27 while Godzilla hits theaters on May 16, 2014.