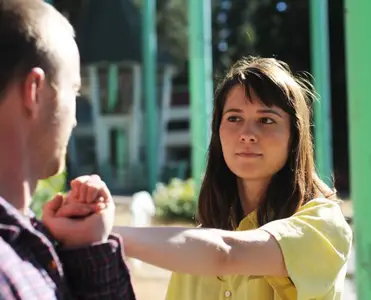 After landing plum roles in Death Proof and Scott Pilgrim vs. the World, Mary Elizabeth Winstead became complacent.  The 27-year-old actress assumed that more exciting projects would automatically come her way.
"I just had a bit of a wakeup call that I needed to do [something]," Winstead told NBC New York.  "It's something that I had been wanting for years and just hadn't really gotten off my ass and just made it happen, because I was sort of waiting around for somebody to make it happen for me.  I realized that it was just never going to come unless I got a little more proactive.  That's when I kind of just went out and started actively seeking scripts—independent scripts, independent productions and filmmakers, anyone I could meet and get to know that were doing something different than what everybody else was doing."
The inspiration to go searching for the perfect project came "when I was on a set of a film—a film that I was happy to do; I certainly wasn't doing it begrudgingly," Winstead said.  "I'm happy to have any kind of work, but I wasn't feeling challenged.  I was feeling a little bit bored, and that's kind of when I was like, 'I'm in this industry which is so exciting and so full of creativity, and I'm bored at work?  This isn't why I wanted to be an actor.  I might as well be in an office or something, if I'm bored.'  Also for a long time I felt like I was really growing and progressing and with each role was sort of learning more, and a few films had gone by where I really hadn't felt that same progress."
Winstead has since made Smashed, an indie drama costarring Aaron Paul (Breaking Bad).  "For me I did what I needed to do—for me," she said.  "It's just changed my confidence in myself a lot as an actor, because it's one of those things where for years and years, like a lot of actors do, you sort of sit around and kind of grumble about how everybody else is getting the parts that you want and why can't you get one of those great parts.  But you sabotage yourself along the way, too, because you have such a fear of failing at those great parts.  So when you get it, that fear of screwing it up is huge."
"For me the fact that I did it and I got through it and I did what I wanted to do with it is huge.  I haven't felt a shift in career yet, really, other than the fact that I've been more confident and holding off on doing something that I'm not totally passionate about and just kind of reading scripts and saying, 'Not right now.  That's not the right thing.'  But we'll see."
Smashed is in theaters now.