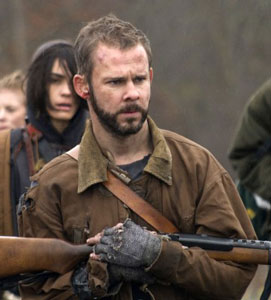 Usually a film from WWE Studios means it's some wacky action-comedy starring one of the company's many wrestling stars.  But The Day, a post-apocalyptic thriller, looks like a major break from that mold — and it doesn't feature any wrestlers.  But it does star Lord of the Rings and Lost star Dominic Monaghan as the leader of a group of people who refuse to resort to cannibalism, although they begin to look like a tasty meal to another group. 
In an interview with The Arizona Republic, Monaghan talks about his experience working on the film as both an actor and a producer.
Because this film wasn't made by a major studio, Monaghan admits that it was mainly love for the project that got him through the low-budget shoot.  He says, "I love working. I'm an actor. I'm in the work section of my life. I love going to work. I love being on-set everyday. It feeds me; it's exciting. Making a film like this felt like we were all part of a group trying to do the right thing. It was a small budget. We all kind of suffered through it, to an extent. But there was no one really complaining. I think the final product is something we're really proud of. You know, you're cold and you're wet, and you could afford an extra shower or two by the end of the day. But the more real it gets for me, the more exciting it is."
In fact, Monaghan explains how much satisfaction he got from seeing The Day made on such a small budget.  He points out, "When you do something like this — and all films are hard to make, all TV shows are hard to make — you realize the real struggle to get a small film made. It was a tiny budget on this, and we all made sacrifices. Then, when you see the final product and you see the polish on it, it probably makes you appreciate the amount of work that went into it. I was lucky enough to be a producer on this, so I was able to see how these types of films get made and see some of the pitfalls that happen sometimes. That was a great education."
Ultimately Monaghan sees the production as a major learning experience, especially in his role as producer… plus it gave him something to do.  He reveals, "I like learning new stuff, and continuing to educate myself as best I can. And obviously, learning about this business is worthwhile. We learned a little bit about how to make a film on a tight schedule with no money, and what actors need and what they don't need, what they're willing to do without, how to get a really fantastic script off the page and turn it into something real.  My brain kind of rolls pretty fast when I'm conscious. It's constantly looking for stuff to do. Like if I'm in my house and I'm hanging out, I tend to be listening to music whilst watching a film whilst sending e-mails. If I'm on-set and I'm on a film, it makes sense for me to utilize my brain to solve problems and work stuff out. Otherwise it feels like he's wasting his time a little."
The Day opens Wednesday in select cities.