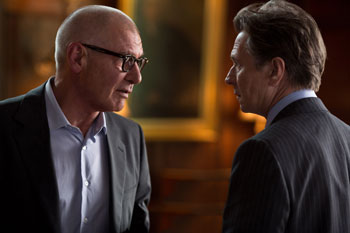 After a long career in Hollywood, Harrison Ford feels his characters can finally be separated from his off-screen persona.  In 42 (now out on DVD), Ford played Branch Rickey in a fat suit—a process he found liberating.  Now, the actor is getting the chance to take on more challenging roles.
"The form of film in the '70s and '80s and early '90s, when I was working more and playing leading-man roles, was such that I always felt the burden of having to carry the audience along," he said in an interview with The New York Times.  "Of making sure that they identified with the emotional condition of the character.  And knowing that if they lost sympathy or investment in that character, that happened at the peril of the film.  The pleasure of being a character actor is that you don't have to think about that."
Ford is next appearing in Paranoia, a thriller set in the tech world—despite the fact that the actor is not into the latest gadgets.
"I hate it when they change stuff," he confessed.  "I was a guy who made lists on scraps of paper and stuffed them into my pocket, and I'd still be a lot happier with that version of life—where you weren't available all the time to receive your mail or answer people's questions.  I don't need it, I don't want it and I'm stuck with it."
Paranoia opens Friday, August 16th.