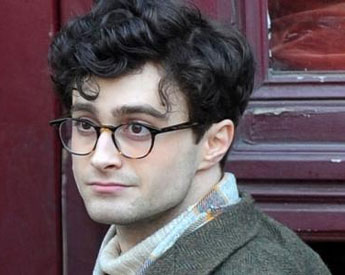 Despite starring in one of the biggest movie franchises of all time, the success doesn't seem to have gone to Daniel Radcliffe's head.  After playing Harry Potter, the British actor still insisted on auditioning for his role as Allen Ginsburg in the film Kill Your Darlings.  Radcliffe told director John Krokidas that he wanted to prove he was right for the part.
"I think he was nervous about whether I would want to audition or not, and so at my first meeting with him I said, 'I want to read, I want to audition,' because at this point in my career, I am aware that my name brings a certain kind of cachet," Radcliffe said in an interview with Out Magazine.  "I want to know that a director wants me for me, rather than for the cachet.  I can see why people are skeptical about me playing Allen Ginsburg, because I don't look like him—although, neither does James Franco [who also portrayed Ginsburg in 2010's Howl]—and I'm English and middle class, and not from New Jersey, but that's what I think is so exciting about it, because people have no idea."
"I've always known I have potential to be a good actor, and I think more than a good actor, but I've also at times lacked the tools and didn't have any training.  When John was first auditioning me for Ginsburg, we hadn't even done the seventh Harry Potter yet, so I was 17 or 18, and he had nothing else to go on apart from the fact that he'd seen me in Equus."
It makes no difference which projects Radcliffe has completed in the past, he's ready now to show that he has what it takes to be called a serious actor.
Kill Your Darlings recently premiered at the Sundance Film Festival, but doesn't have a national release date set yet.