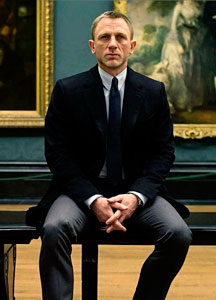 It's been four years since 007 was on screen — one of the longest gaps between sequels in the James Bond franchise — so when Daniel Craig returns as the British secret agent in November's Skyfall it will be a very welcome return.  And I don't mean for just the audience — in an interview with Empire, Craig reveals that playing James Bond might be exhausting, but it's something he really looks forward to.
Craig explains that playing Bond and preparing for all of the film's stunts takes a particularly focused mindset.  He says, "When I'm doing the movie I'm totally single-minded…I keep my energy levels as high as I can all the time. I want to inspire, and be inspired. And I'm lucky enough to work with some incredible people with vast experience."
It all sort of hit him on set when he was involved in one of the film's toughest action sequences.  He reveals, "I was standing on top of a train in Turkey with this crew of people, I looked around and I thought, 'You know, this is the best place to be for an actor.' So I kind of give it all I've got, and then collapse for a while!"
Craig might be enjoying his rest now, but not for long: the twenty-fourth film in the franchise is already penciled in for a late 2014 release.