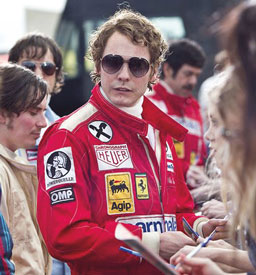 Daniel Bruhl is absolutely fantastic in the new Ron Howard film, Rush. The film is great and a lot of that can be credited to Bruhl who portrays Formula 1 superstar Niki Lauda.
To play Lauda, Bruhl says in the video that he read Lauda's biography, watched documentaries to get his body language right, worked with an accent coach and asked Lauda a "ton of questions." He says, "to play him was not that easy because we don't have that much in common. He's very different. It freaked me out at first."
In the video below, Brulh talks with Anne Thompson about the film, portraying Niki Lauda and more.
Check it out below!